Sandboarding – One of Qatar's best adrenaline rushes
Welcome back to Qonversations! Today's article brings you the adrenaline rush under desert conditions and a new boarding experience. Let's get to know the side of Qatar that offers one of the ultimate sandboarding adventures!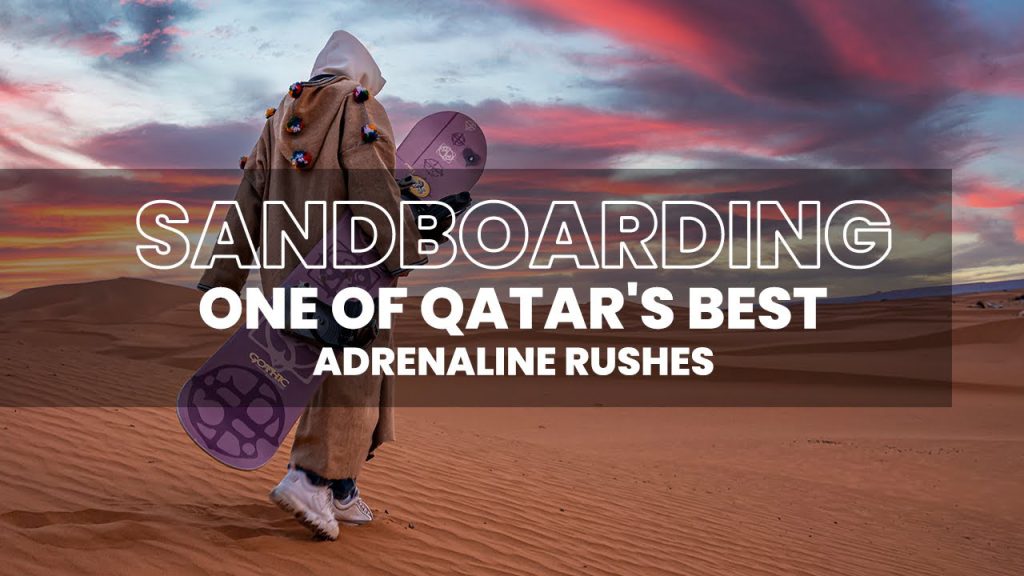 Sandboarding, also known as sand surfing, is one of the most iconic desert adventure sports. It's a sport of balance, much like snowboarding, skateboarding, or surfing, and it doesn't require much equipment: a board and sunglasses suffice. In Qatar, the activity has gained popularity in recent years due to the country's vast deserts and large sand dunes.
If it's your first time, the best practice for beginners to enjoy sandboarding is sitting down or lying on your front or your back. Qatar's desert has soft sand, making it relatively easy to enjoy this sand adventure.
A major advantage of the sport is that unlike snowboarding, sandboarding is not a seasonal sport. You can do it any time of the year In Qatar and the Arabic dunes are among the most beautiful, making Qatar the perfect country to experience this sport.
When seeking dunes for sandboarding in Qatar, some places provide the best experience.
The most popular spot for sandboarding, the dunes of Khor Al Adaid – the so-called "Inland Sea" thanks to majestic sand-hills facing the Arabian Sea – are situated in the southeast of Qatar and are a UNESCO-recognised natural reserve boasting impressive sand dunes perfect for sandboarding. Access to this area is limited to 4×4 vehicles, making it essential to join an experienced guide or tour group. This will not only ensure safe transportation but also provide the necessary local knowledge and expertise for a memorable sandboarding experience.
Sealine Beach Resort is a haven for beginners and experienced sandboarders alike. Located in close proximity to the Sealine Beach Resort, visitors will discover sand dunes of varying sizes, catering to both novices and seasoned sandboarders. Several tour operators offer sandboarding lessons and equipment rentals in the area, making it an ideal spot to learn the ropes or hone your skills. The resort also provides a comfortable base for relaxation after a day of adventure on the dunes.
For those seeking a sandboarding experience within easy reach of the city, the Mesaieed Sand Dunes present a convenient option. Situated near the city of Mesaieed, these dunes attract locals and tourists alike for sandboarding and other exhilarating desert activities, such as dune bashing. With a blend of accessibility and diverse terrain, Mesaieed Sand Dunes is a fantastic destination for a thrilling day out.
Qatar is also one of the few places to experience sandboarding on singing dunes. Singing dunes, also known as whistling dunes or barking dunes, are sand dunes that produce a distinct sound when the sand is in motion. This phenomenon is caused by the movement of the sand grains, which create vibrations that produce the audible humming, whistling or barking noises. In Qatar, one of the best places to experience singing dunes is the Al Kharara Sand Dunes, situated about 60 kilometres southwest of the capital city, Doha. These dunes are renowned for their unique acoustic properties and have become a popular destination for sandboarding enthusiasts as well as tourists.
Visitors can not only savour the thrill of sandboarding down these dunes, but also witness the rare natural phenomenon of the singing sand. Remember to go with a reputable tour operator or guide and follow safety precautions while exploring the area, as the desert can be challenging for those unfamiliar with the terrain and climate.
Sandboarding in Qatar is not only a fun sport that provides an adrenaline rush, it serves also as an opportunity to explore the mesmerising landscapes Qatar has to offer. So, don't think twice about visiting this beautiful place if you are a sandboarding lover.